Menu
---
Articles
Author Profiles
Lessons
FAQ's
Books
Newsletter
Tutorials
Talk Java!
Using Java
Applets
JavaBeans
Servlets
Resources
Discuss Java
---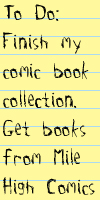 Looking for Java resources? Check out the Java Coffee Break directory!
Getting started with Java
"A beginner's guide to Java programming"
---
Running your first Java application
Now the time has come, (said the Walrus). You're ready to run your first Java application. From a dos prompt or Unix session, enter the directory where your source code and class file is stored, and type the following :
java myfirstjavaprog
| | |
| --- | --- |
| | You should not type java myfirstjavaprog.class. All Java classes end in this extension, it is not necessary, and will cause an error messages. |
Your Java application will load, display its message, and then terminate. Congratulations!
Summary
Writing and developing Java applications and applets need not be a great mystery. Armed with the JDK and a text editor, virtually any programmer can write in Java. You've just taken the first step, in a long journey, towards learning Java.
Test your knowledge and take our Java quiz!
Want to print this article out, for offline reading? View it in single page format.