The Complete Java 2 Certification Study Guide, by Roberts, Heller & Ernest
Review Courtesy of Amazon.com

Sun Microsystems (the creator of the Java programming language) has two Java Certification Exams -- one for programmers and one for developers. This Study Guide is the ultimate authority for both of the Sun Certification Tests! The lead author of Sybex's The Complete Java 2 Certification Study Guide actually developed the exams for Sun. Not only was Roberts the key player in the concept, strategy, and implementation of the test guidelines, he also developed the questions. The Study Guide is organized according to the exam objectives defined by Sun. Every single objective is covered, reinforced with sample questions and annotated answers. The book has a stamp of approval from the Sun Education Team and includes a CD with an exclusive Java exam test engine.
Additional information
This guide aids in the preparation for the Sun Certified Java Programmer and Sun Certified Java Developers examinations. These examinations cost an additional fee, and require a 70% score to pass. You are highly advised to purchase a study guide, or seek out a professional training course, before sitting for these exams. As a Sun Certified Java Programmer myself, I can assure you that the exams are grueling, and you need to prepare first! For more information, see our special article on passing the Sun Certification Exams -- David Reilly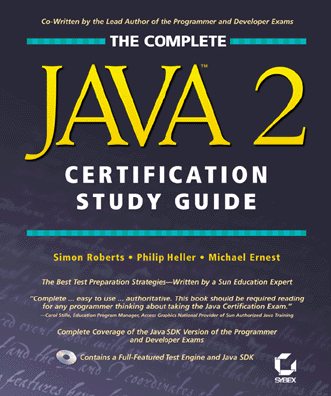 The Complete Java 2 Certification Guide,
ISBN : 0-782-12700-2
Experience level :
Intermediate-Expert